James T. S. Taylor to Abraham Lincoln
November 15, 1864
In late 1864, James T. S. Taylor wrote a letter to Abraham Lincoln explaining how he joined the USCT and asking him for his help.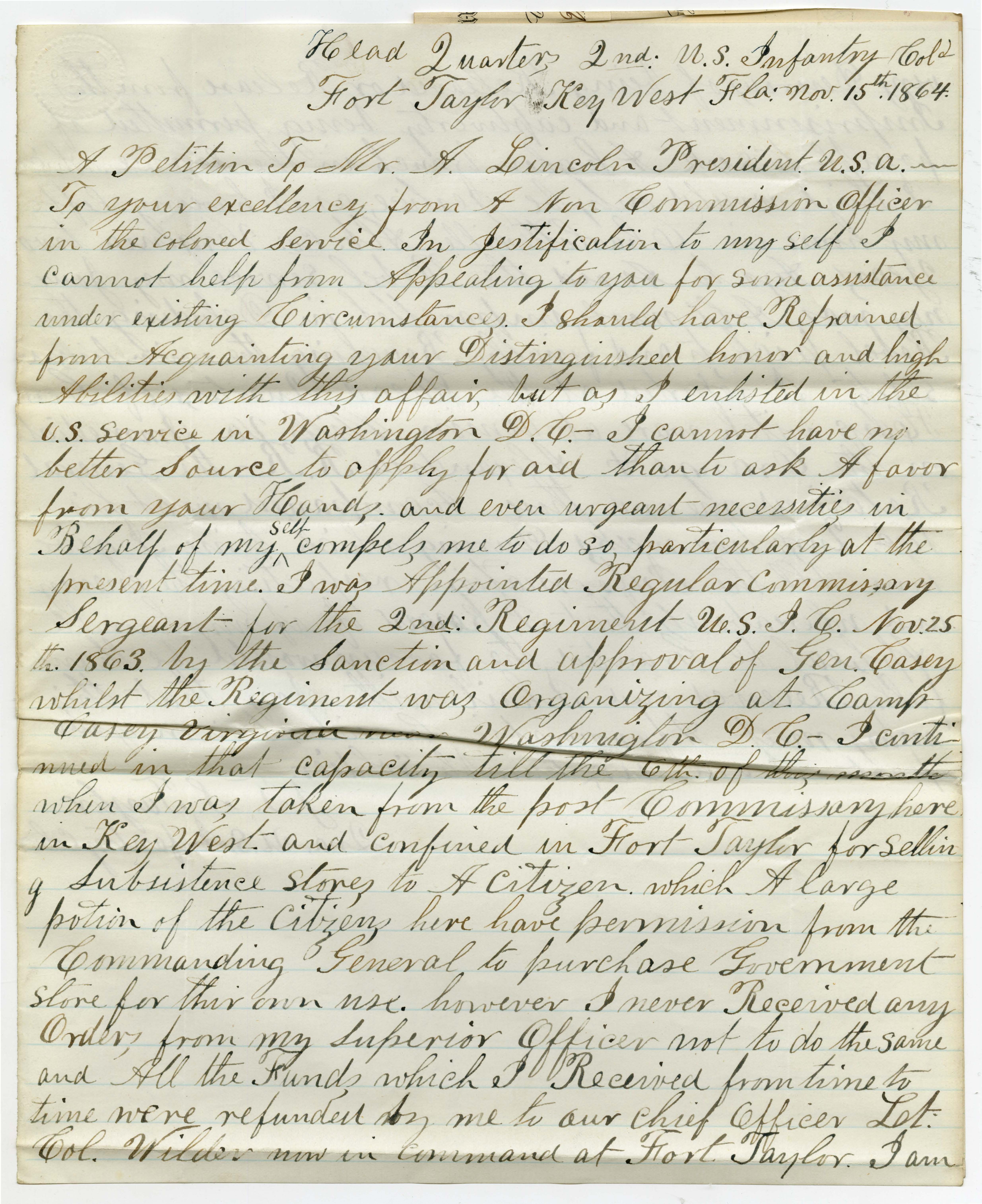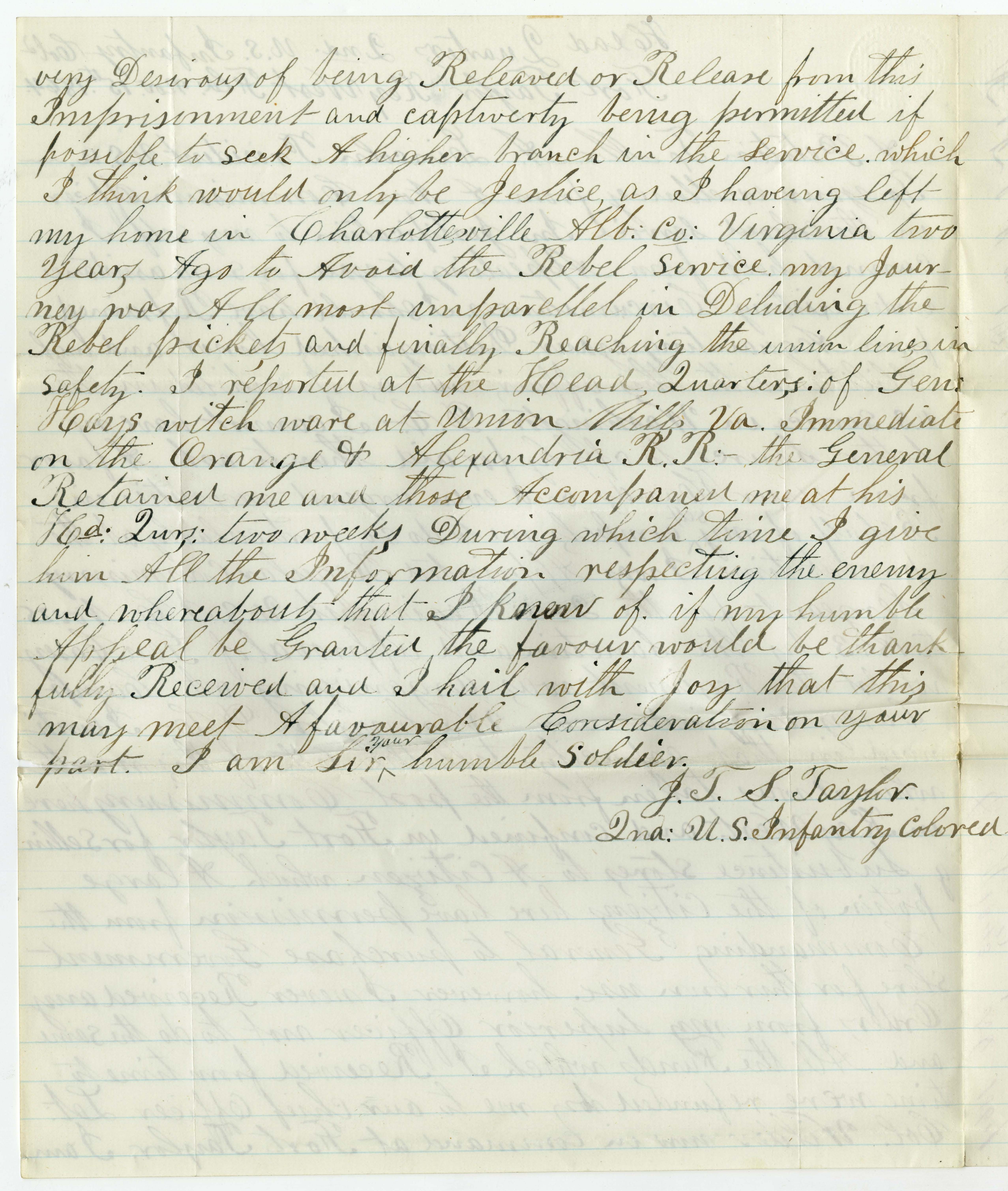 Head Quarters, 2nd: U.S. Infantry Cold
Fort Taylor, Key West, Fla: Nov. 15th. 1864.
A Petition To Mr. A. Lincoln President U.S.A.—
To your excellency from A Non Commission Officer in the colored Service. In Jestification to my self I cannot help from Appealing to you for some assistance under existing Circumstances. I should have Refrained from Acquainting your Distinguished honor and high Abilities with this affair, but as I enlisted in the U.S. Service in Washington D.C.—I cannot have no better Source to apply for aid than to ask a favor from your Hands, and even urgeant necessities in Behalf of my self compels me to do so, particularly at the present time. I was Appointed Regular Commissary Sergeant for the 2nd: Regiment U.S.I.C. Nov. 25th 1863 by the Sanction and approval of Gen. Casey whilst the Regiment was Organizing at Camp Casey Virginia near Washington D.C.—I continued in that capacity till the 6th of this month when I was taken from the post Commissary here in Key West and confined in Fort Taylor for selling a Subsistence stores to A citizen, which A large potion of the citizens here have permission from the Commanding General to purchase Government store for their own use. however I never Received any Orders from my Superior Officer not to do the same and All the Funds which I Received from time to time were refunded by me to our chief Officer Lt: Col. Wilder now in command at Fort Taylor. I am very Desirous of being Releaved or Release from this Imprisonment and captiverty being permitted if possible to seek A higher branch in the Service which I think would only be Jestice, as I haveing left my home in Charlottesville Alb: Co: Virginia two years Ago to Avoid the Rebel Service my Journey was Allmost unparelled in Deluding the Rebel pickets and finally reaching the union lines in safety. I reported at the Head Quarters of Gens Hays witch ware at Union Mills Va. Immediate on the Orange & Alexandria R.R:—the General Retained me and those Accompaned me at his Hd: Qurs: two weeks During which time I gave him All the Information respecting the enemy and whereabouts that I know of. if my humble Appeal be Granted the favour would be thankfully Received and I hail with Joy that this may meet A favourable Consideration on your part. I am Sir your humble soldier.
            J. T. S. Taylor.
            2nd: U.S. Infantry Colored
SOURCES
ALS, RG 94 (Records of the Adjutant General's Office), Entry 360 (Records of Divisions of the Adjutant General's Office, Colored Troops Division, 1863-1889, Letters Received, 1863-1888 and Later), National Archives and Records Administration, Washington, D.C.