John Woodford Obituary
July 13, 1929
An obituary for John Woodford from the Pittsburgh Courier briefly described his war service and post-war work at the United States Supreme Court.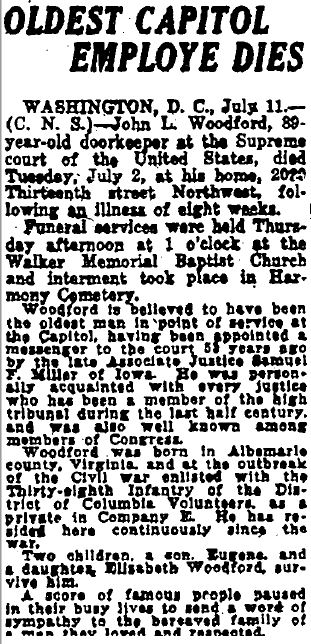 Oldest Capitol Employe Dies
            Washington, D. C., July 11.—(C. N. S.)—John L. Woodford, 89-year-old doorkeeper at the Supreme court of the United States, died Tuesday, July 2, at his home, 2023 Thirteenth street Northwest, following an illness of eight weeks.
            Funeral services were held Thursday afternoon at 1 o'clock at the Walker Memorial Baptist Church and interment took place in Harmony Cemetery. 
            Woodford is believed to have been the oldest man in point of service at the Capitol, having been appointed a messenger to the court 53 years ago by the late Associate Justice Samuel F. Miller of Iowa. He was personally acquainted with every justice who has been a member of the high tribunal during the last half century, and was also well known among members of Congress.
            Woodford was born in Albemarle county, Virginia and at the outbreak of the Civil War enlisted with the Thirty-eighth Infantry of the District of Columbia Volunteers, as a private in Company E. He has resided here continuously since the war. 
            Two children, a son, Eugene, and a daughter, Elisabeth Woodford, survive him.
            A score of famous people paused in their busy lives to send a word of sympathy to the bereaved family of a man they loved and respected.
SOURCES
"Oldest Capitol Employe Dies," The Pittsburgh Courier (Pittsburgh, Pennsylvania), July 13, 1929, p. 9.