Warner Carter to the Commissioner of Pensions, November 13, 1905
November 13, 1905
Warner Carter wrote a letter to the commissioner of pensions asking that his wife stop receiving a portion of his pension.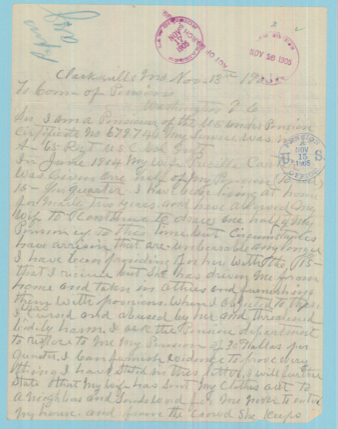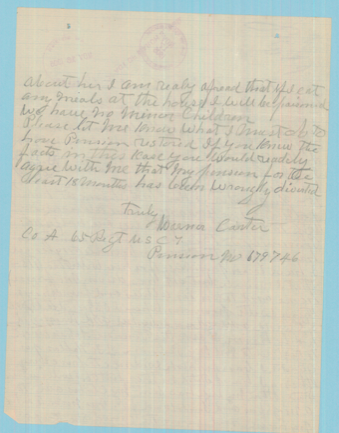 Clarksville MO Nov–13th 1905
To Com– of Pensions
Washington D C
Sir I am a Pensioner of the US under Pension Cirtificate no 679746 My Service was in Co A–65 Regt USC Vol Inft
In June 1904 my wife Precilla Carter Was Given one half of my Pension (To wit) 15–for quarter I have been living at home for nearly Two years and have allowed my Wife To Continue To draw one half of My Pension up to this Time, but Circumstances have arrisin that are unbearable any longer I have been providing for her With the $15– that I ricieve but She has driven Me from home and taken in others and furnishing them With provisions. When I Objected to this, I was Cursed and abused by her and threatened bodily harm. I ask the Pension department to restore to me my Pension of 30 Dollars per Quarter. I Can furnish evidence To prove every thing I have Stated in this letter. I will further State that My Wife has Sent My Clothes out to A neighbors and Sends Word for Me Never To enter my house, and from the crowd She Keeps about her I am realy afread that if I eat any meals at the house I will be poisoned We have no Minor Children Please let me know What I Must do to have Pension restored If you Knew the facts in this Kase you would readely agree with me that my pension for the least 18 months has been Wrongly diverted
      truly
Warner Carter
Co A 65 Regt U S C T
Pension no 679746
SOURCES
Pension Records for Warner Carter, RG15, National Archives and Records Administration, Washington, D.C.