Remains of Jeremiah Walker Sent Home
July 9, 1900
An article published in the Chillicothe Gazette described the return of Jeremiah Walker's remains home to his family after he died suddenly at a train station.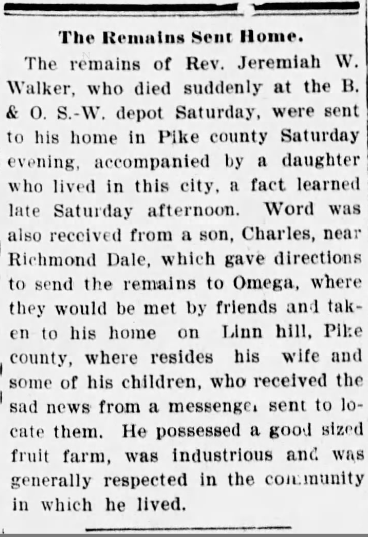 The Remains Sent Home. 
            The remains of Rev. Jeremiah W. Walker, who died suddenly at the B. & O. S.-W. depot Saturday, were sent to his home in Pike county Saturday evening, accompanied by a daughter who lived in this city, a fact learned late Saturday afternoon. Word was also received from a son, Charles, near Richmond Dale, which gave directions to send the remains to Omega, where they would be met by friends and taken to his home on Linn hill, Pike county, where resides his wife and some of his children, who received the sad news from a messenger, sent to locate them. He possessed a good sized fruit farm, was industrious and was generally respected in the community in which he lived. 
SOURCES
"The Remains Sent Home," Chillicothe Gazette (Chillicothe, Ohio), July 9, 1900, p. 3.