Obituary for Jeremiah Walker
July 12, 1900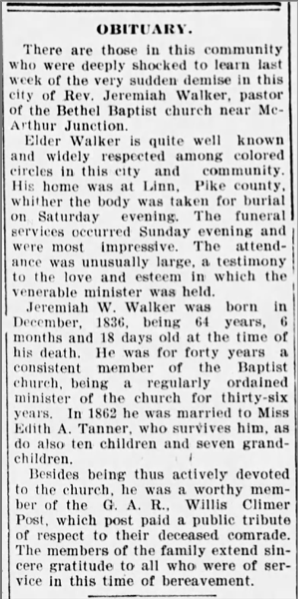 OBITUARY.
            There are those in this community who were deeply shocked to learn last week of the very sudden demise in this city of Rev. Jeremiah Walker, a pastor of the Bethel Baptist church near the McArthur Junction. 
            Elder Walker is quite well known and widely respected among colored circles in this city and community. His home was at Linn, Pike county, whither the body was taken for burial on Saturday evening. The funeral services occurred Sunday evening and were most impressive. The attendance was unusually large, a testimony to the love and esteem in which the venerable minister was held. 
            Jeremiah W. Walker was born in December, 1836, being 64 years, 6 months, 18 days old at the time of his death. He was for forty years a consistent member of the Baptist church, being a regularly ordained minister of the church for thirty-six years. In 1862 he was married to a Miss Edith A. Tanner, who survives him, as do also ten children and seven grandchildren. 
            Besides being thus actively devoted to the church he was a worthy member of the G. A. R., Willis Climer Post, which post paid a public tribute of respect to their deceased comrade. The members of the family extend sincere gratitude to all who were of service in this time of bereavement. 
SOURCES
"Obituary," Chillicothe Gazette (Chillicothe, Ohio), July, 12, 1900, p. 7.