Description of Jesse Cowles's Work as a Minister
July 30, 1887
This article from the Cleveland Gazette described the work that Jesse Cowles did as a minister with the Zion A.M.E. Church in New York.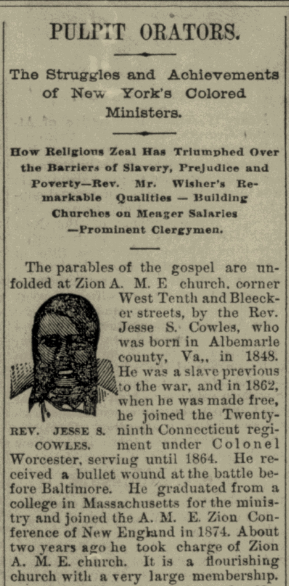 PULPIT ORATORS.
The Struggles and Achievements of New York's Colored Ministers.
How Religious Zeal Has Triumphed Over the Barriers of Slavery, Prejudice and Poverty—Rev. Mr. Wisher's Remarkable Qualities — Building Churches on Meager Salaries — Prominent Clergymen.
            The parables of the gospel are unfolded at Zion A. M. E church, corner West Tenth and Bleecker streets, by the Rev. Jesse S. Cowles, who was born in Albemarle county, Va., in 1848. He was a slave previous to the war, and in 1862, when he was made free, he joined the Twenty-ninth Connecticut regiment under Colonel Worcester, serving until 1864. He received a bullet wound at the battle before Baltimore. He graduated from a college in Massachusetts for the ministry and joined the A. M. E. Zion Conference of New England in 1874. About two years ago he took charge of Zion A. M. E. church. It is a flourishing church with a very large membership. 
SOURCES
Cleveland Gazette (Cleveland, Ohio), July 30, 1887.