WPA Slave Narrative Testimony of Eliza Ann Taylor
March 5, 1937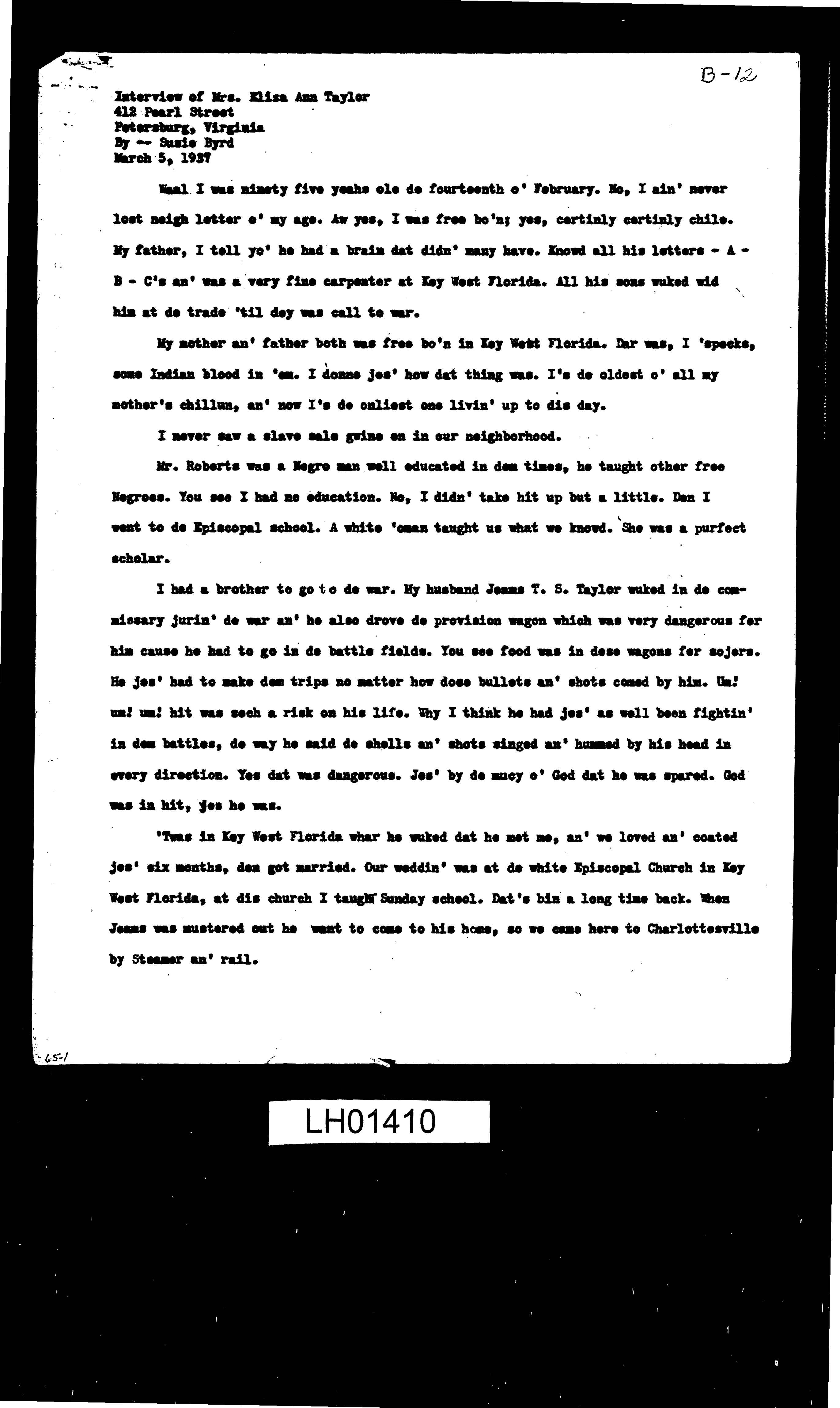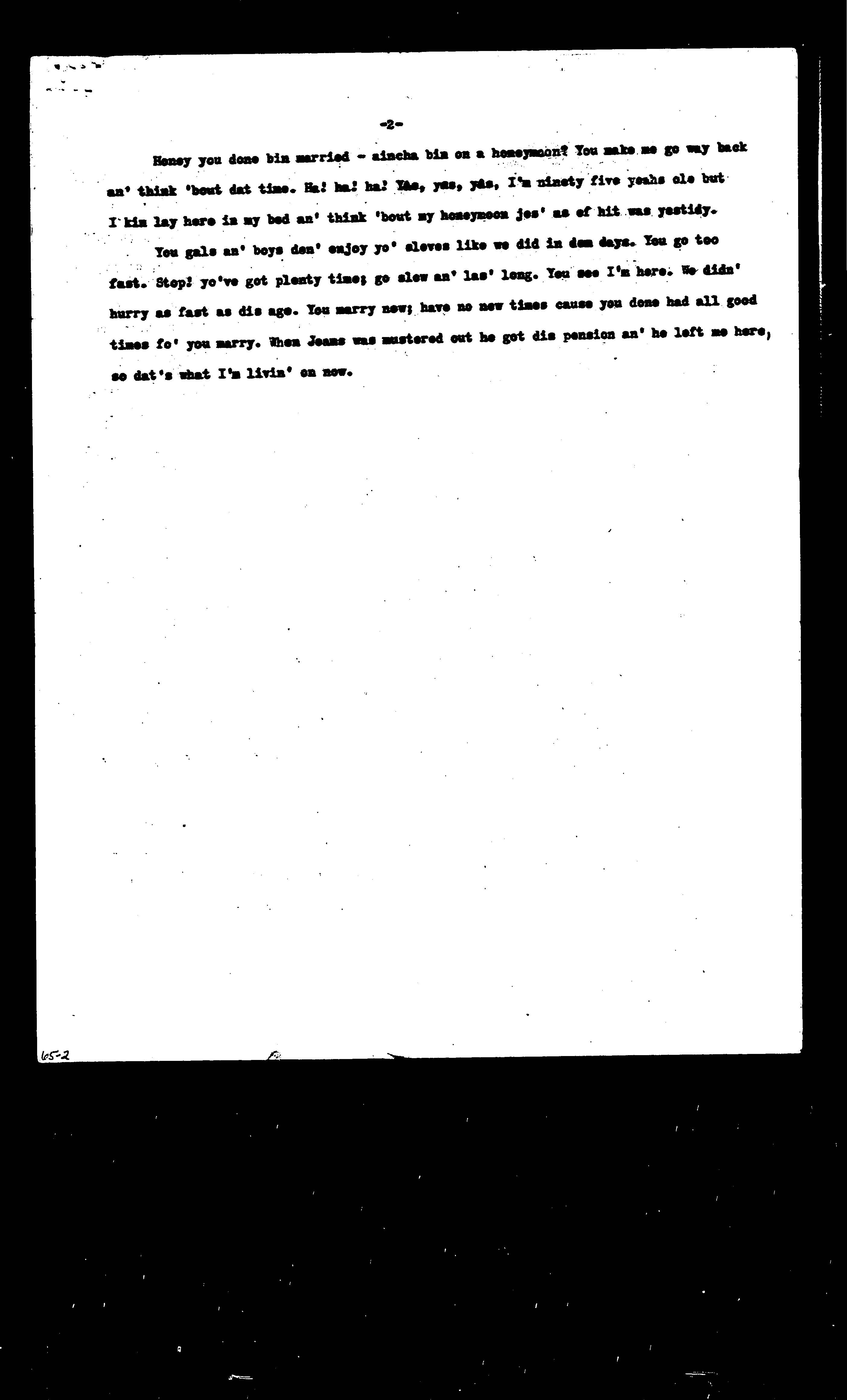 Interview of Mrs. Eliza Ann Taylor
412 Pearl Street
Petersburg, Virginia
By Susie Byrd
March 5, 1937
            Waal I was ninety-five yeahs ole de fourteenth o' February. No, I ain' never lost neigh letter o' my age. Aw yes, I was free bo'n; yes, certinly certinly chile. My father, I tell yo' he had a brain dat didn' many have. Knowed all his letters—A-B-C's an' was a very fine carpenter at Key West, Florida. All his sons wuked wid him at de trade 'til dey was call to war.
            My mother an' father both was free bo'n in Key West Florida. Dar was, I 'specks, some Indian blood in 'em. I donno jes' how dat thing was. I's de oldest o' all my mother's chillun, an' now I's de onliest one livin' up to dis day.
            I never saw a slave sale gwine on in our neighborhood.
            Mr. Roberts was a Negro man well educated in dem times, he taught other free Negroes. You see I had no education. No, I didn' take hit up but a little. Den I went to de Episcopal school. A white 'oman taught us what we knowd. She was a purfect scholar.
            I had a brother to go to de war. My husband, Jeams T. S. Taylor, wuked in de commissary jurin' de war an' he also drove de provision wagon which was very dangerous fer him 'cause he had to go in de battle fields. You see food was in dese wagons fer sojers. He jes' had to make dem trips no matter how dose bullets an' shots comed by him. Um! um! um! hit was sech a risk on his life. Why I think he had jes' as well been fightin' in dem battles, de way he said de shells an' shots singed an' hummed by his head in every direction. Yes dat was dangerous. Jes' by de mucy o' God dat he was spared. God was in hit, yes he was.
            'Twas in Key West Florida whar he wuked dat he met me, an' we loved an' coated jes' six months; den got married. Our weddin' was at de white Episcopal Church in Key West Florida, at dis church I taught Sunday School. Dat's bin a long time back. When Jeams was mustered out, he want to come to his home, so we came here to Charlottesville by Steamer an' rail.
            Honey, you done bin married—aincha bin on a honeymoon? You make me go way back an' think 'bout dat time. Ha! ha! ha! Yas, yas, yas, I'm ninety five yeahs ole but I kin lay here in my bed an' think 'bout my honeymoon jes' as ef hit was yestidy.
            You gals an' boys don' enjoy yo' selves like we did in dem days. You go too fast. Stop! yo've got plenty time; go slow an' las' long. You see I'm here. We didn' hurry as fast as dis age. You marry now; have no new times cause you done had all good times fo' you marry. When Jeams was mustered out he got dis pension an' he left me here so dat's what I'm livin' on now.
SOURCES
"Virginia Writers Project: Life Histories," Work Projects Administration of Virginia Records, 1939-1943, Library of Virginia, Richmond, Virginia; Charles L. Perdue, Jr., Thomas E. Barden, and Robert K Phillips, eds., Weevils in the Wheat: Interviews With Virginia Ex-Slaves Charlottesville: University of Virginia Press, 1976), 284-285.