Testimony of John Battles on behalf of James T. Battles
November 1, 1898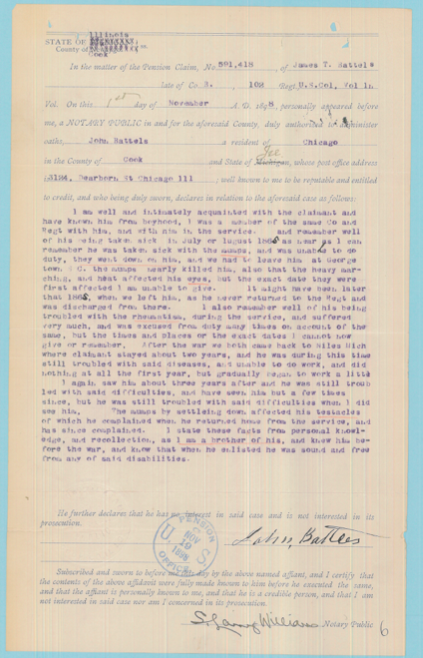 STATE OF Illinois }
            County of Cook} ss.
            In the matter of the Pension Claim, No. 591, 418, of James T. Battels late of Co. B., 102 Regt., U.S. Col, Vol InVol. On this 1st day of November A. D. 1898, personally appeared before me, a NOTARY PUBLIC in and for the aforesaid County, duly authorized to administer oaths, John Battels a resident of Chicago in the County of Cook and State of Ill., whose post office address is 3124, Dearborn St Chicago Ill; well known to me to be reputable and entitled to credit, and who being duly sworn, declares in relation to the aforesaid case as follows:
            I am well and intimately acquainted with the claimant and have known him from boyhood, I was a member of the same Co and Regt with him, and with him in the service.       and remember well of his being taken sick in July or [A]ugust 1865 as near as I can remember he was taken sick with the mumps, and was unable to do duty, they went down on him, and we had to leave him at Georgetown S C. the mumps nearly killed him, also that the heavy marching, and heat affected his eyes, but the exact date they were first affected I am unable to give.         It might have been later that 1865, when we left him, as he never returned to the Regt and was discharged from there.   I also remember well of his being troubled with the rheumatism, during the service, and suffered very much, and was excused from duty many times on account of the same, but the times and places or the exact dates I cannot now give or remember.          After the war we both came back to Niles Mich where claimant stayed about two years, and he was during this time still troubled with said diseases, and unable to do work, and did nothing at all the first year, but gradually began to work a litt[le].
            I again saw him about three years after and he was still troubled with said difficulties, and have seen him but a few times since, but he was still troubled with said difficulties when I did see him.      The mumps by settleing down affected his testacles of which he complained when he returned home from the service, and has since complained.      I state these facts from personal knowledge, and recollection, as I am a brother of his, and knew him before the war, and know that when he enlisted he was sound and free from any of said disabilities.
            He further declares that he has no interest in said case and is not interested in its prosecution.
John, Battles
            Subscribed and sworn to before me this day by the above named affiant, and I certify that the contents of the above affidavit were fully made known to him before he executed the same, and that the affiant is personally known to me, and that he is a credible person, and that I am not interested in said case nor am I concerned in its prosecution.
S. Lang Williams Notary Public
SOURCES
Pension Records for James T. Battles, RG15, National Archives and Records Administration, Washington, D.C.