Testimony of Patrick H. Atkinson
June 4, 1900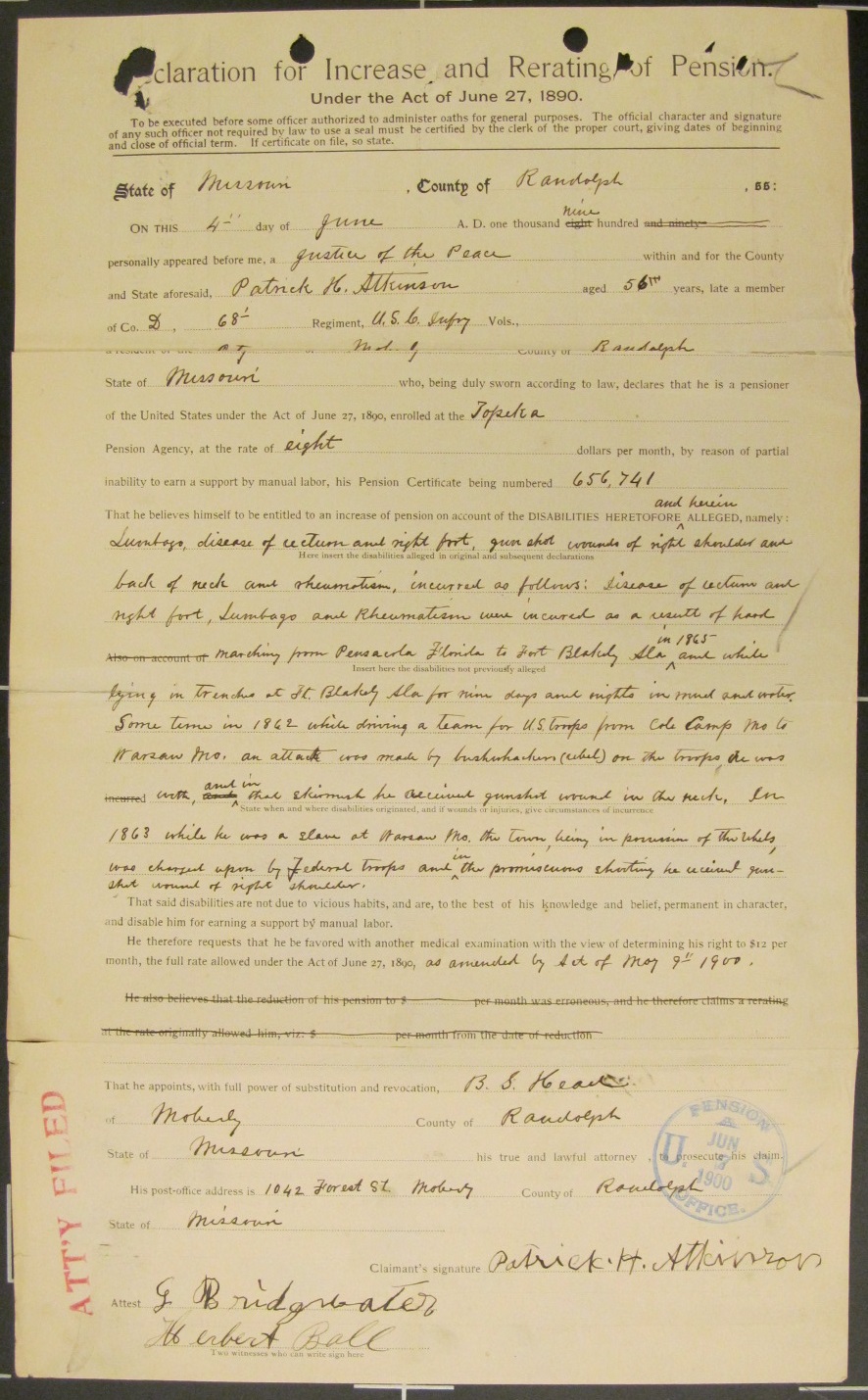 Declaration for Increase and Rerating of Pension
Under the Act of June 27, 1890.
State of Missouri, County of Randolph,
            ON THIS 4th day of June A. D. one thousand nine hundred personally appeared before me, a Justice of the Peace within and for the County and State aforesaid, Patrick H, Atkinson aged 56th years, late a member of Co. D, 68thRegiment, U. S. C. Infry Vols., a resident of the City of Moberly County of Randolph State of Missouri who, being duly sworn according to law, declares that he is a pensioner of the United States under the Act of June 27, 1890, enrolled at the Topeka Pension Agency, at the rate of eight dollars per month, by reason of partial inability to earn a support by manual labor, his Pension Certificate being numbered 656, 741
That he believes himself to be entitled to an increase of pension on account of the DISABILITIES HERETOFORE and herein ALLEGED, namely: 
Lumbago, disease of rectum and right foot, gun shot wounds of right shoulder and back of neck and rheumatism, incurred as follows: disease of rectum and right foot, Lumbago and Rheumatism were incured as a result of hard marching from Pensacola Florida to Fort Blakely Ala in 1865 and while lying in Trenches at Ft. Blakely Ala for nine days and nights in mud and water. Some time in 1862 while driving a team for U.S. Troops from Cole Camp Mo to Warsaw Mo. an attack was made by bushwhackers (rebel) on the troops, he was with, and in that skirmish he received gunshot wound in the neck.  In 1863 while he was a slave at Warsaw Mo. the town, being in possession of The rebels, was charged upon by Federal Troops and in the promiscuous shooting he received gunshot wound of right shoulder.
            That said disabilities are not due to vicious habits, and are, to the best of his knowledge and belief, permanent in character, and disable him for earning a support by manual labor.
            He therefore requests that he be favored with another medical examination with the view of determining his right to $12 per month, the full rate allowed under the Act of June 27, 1890, as amended by Act of May 9" 1900.
That he appoints, with full power of substitution and revocation, B. S. Head of Moberly County of Randolph State of Missouri his true and lawful attorney, to prosecute his claim.
            His post-office address is 1042 Forest St. Moberly County of Randolph State of Missouri
Claimant's signature Patrick. H. Atkinson
Attest  S. Bridgwater
           Herbert Ball
Also personally appeared Ball residing at Moberly Mo. and S. B. Bridgwater residing at Moberly Mo, persons whom I certify to be respectable and entitled to credit, and who, being by me duly sworn, say that they were present and saw Patrick H. Atkinson the claimant, sign his name to the foregoing declaration; that they have every reason to believe from the appearance of said claimant and their acquaintance with him that he is the identical person he represents himself to be, and that they have no interest in the prosecution of this claim.
Herbert Ball
S. Bridgwater
Signatures of affiants
            Sworn to and subscribed before me, this 4" day of June 1900, and I hereby certify that the contents of the above declaration, &c., were fully made known and explained to the applicant and witnesses before swearing, including the words erased, and the words added; and that I have no interest, direct or indirect, in the prosecution of this claim.
Wm. Homsoly
Justice of the Peace
SOURCES
Pension Records for Patrick H. Atkinson, RG15, National Archives and Records Administration, Washington, D.C.