Testimony of Captain John B. Nixon on behalf of Prince Bradford
March 18, 1895
Captain John B. Nixon described Prince Bradford's wartime service under him in order to help Bradford obtain a pension.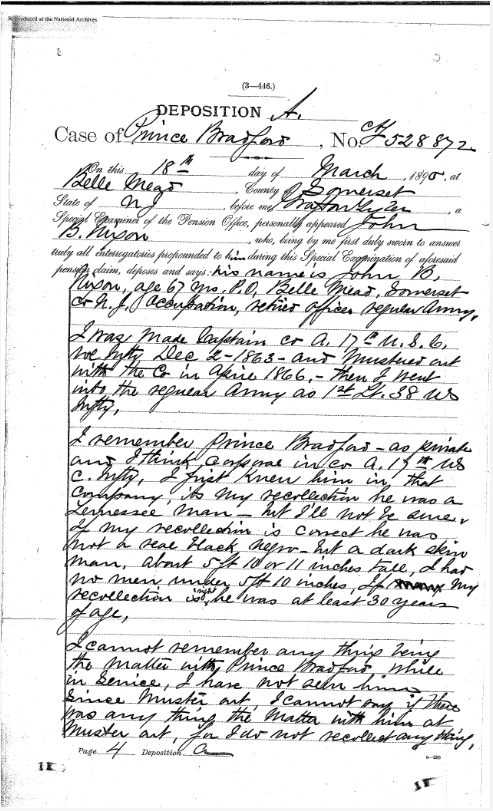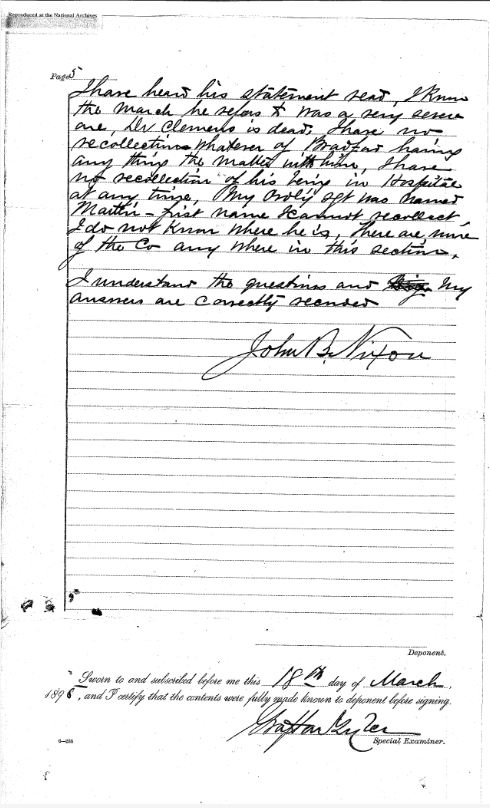 (3—446.)
DEPOSITION A.
Case of Prince Bradford, No. ctf 528872
            On this 18th day of March, 1895, at Belle Mead, County of Somerset State of NJ, before me, Grafton Tyler, a Special Examiner of the Pension Office, personally appeared John B. Nixon, who, being by me first duly sworn to answer truly all interrogatories propounded to him during this Special Examination of aforesaid pension claim, deposes and says: his name is John B, Nixon, age 67 yrs, P.O. Belle Mead, Somerset Co N. J. occupation, retired officer regular Army.
I was made Captain Co A. 17th U.S.C. vol Infty Dec 2-1863-and mustered out with the Co in April 1866.- then I went into the regular Army as 1st Lt. 38 U. S. Infty.
I remember Prince Bradford-as private and I think corporal in Co A. 17th USC. Infty, I first Knew him in that company, its my recollection he was a Tennessee Man_but I'll not be sure. If my recollection is correct he was not a real black negro_but a dark skin man, about 5ft 10 or 11 inches tall, I had no men under 5ft 10 inches, If my recollection is right he was at least 30 years of age,
I cannot remember any thing being the matter with Prince Bradford while in Service, I have not seen him Since muster out, I cannot say if there was any thing the Matter with him at muster out, for I do not recollect any thing, I have heard his statement read, I know the march he refers to was a very severe one, Dr Clemens is dead, I have no recollections whatever of Bradford having any thing the matter with him, I have no recollection of his being in Hospital at any time, My Ordl'y sgt was named Martin-first name I cannot recollect, I do not know where he is, There are none of the Co any where in this section.
I understand the questions and my answers are correctly recorded
John B. Nixon
                        Sworn to and subscribed before me this 18th day of March, 1895, and I certify that the contents were fully made known to the deponent before signing.
Grafton Tyler
Special Examiner.
SOURCES
Pension Records for Prince Bradford, RG15, National Archives and Records Administration, Washington, D.C.