Testimony of Thornton Davis
January 23, 1912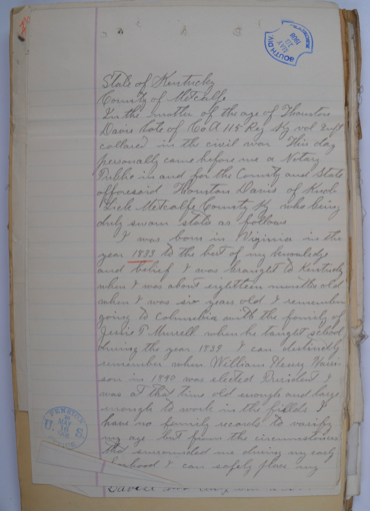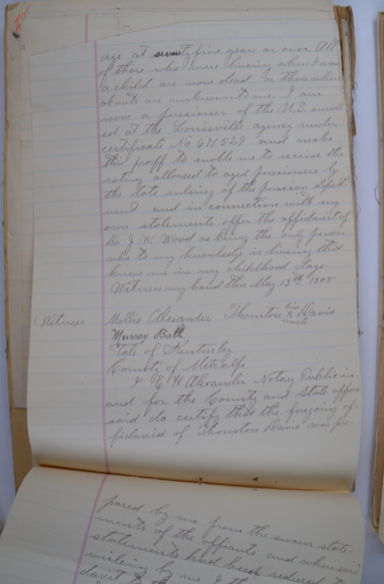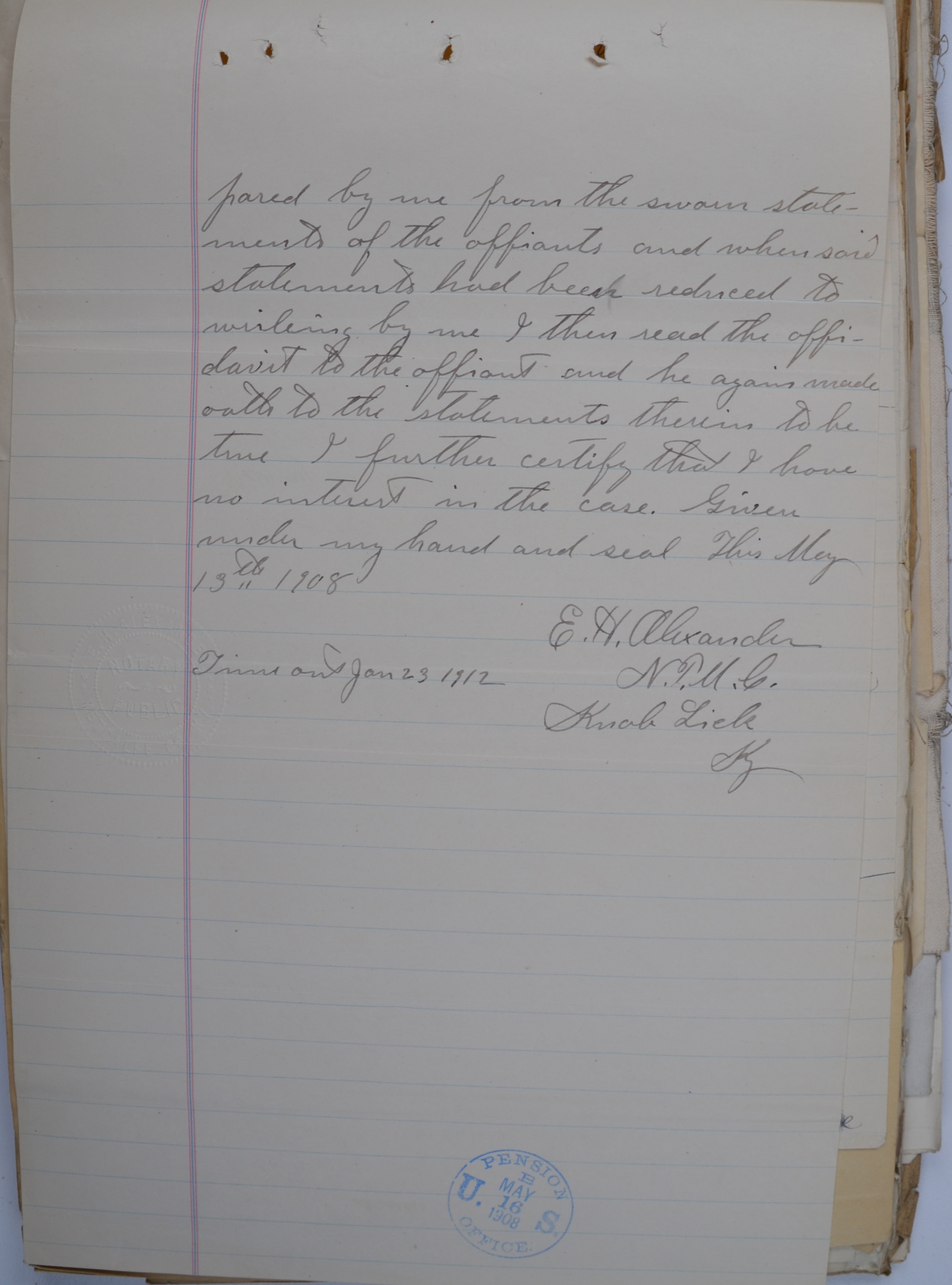 State of Kentucky
County of Metcalfe
In the matter of the age of Thornton Davis late of Co A 115 Reg Ky Vol Inft collored in the civil war   This day personally came before me a Notary Public in and for the County and State afforesaid Thornton Davis of Knob Lick Metcalfe County Ky who being duly sworn states as follows
            I was born in Virginia in the year 1833 to the best of my knowledge and belief  I was brought to Kentucky when I was about eighteen months old when I was six years old I remember going to Columbia with the family of Jessie T Murrell. when he taught school during the year 1839 I can destinctly remember when William Henry Harrison in 1840 was elected President  I was at that time old enough and large enough to work in the fields I have no family records to varify my age but from the circumstances that surrounded me during my early [boyhood?] I can safely place my age at seventy five years or over All of those who were liveing when I was a child are now dead or there where abouts are unknown to me. I am now a pensioner of the U.S. enrolled at the Louisville agency under certificate No 671529 and make this proff to enable me to receive the rating allowed to aged pensioners by the late ruling of the pension department. and in connection with my own statements offer the affidavit of Dr. J. W. Wood as being the only person who to my knowledge is liveing that knew me in my childhood days.
Witness my hand this May 13th 1908
Thornton his x mark Davis
Witness   Mollie Alexander
               Murray Ball
State of Kentucky
County of Metcalfe
                        I E H Alexander Notary Public in and for the County and State afforesaid do certify that the foregoing affidavid of Thornton Davis was prepared by me from the sworn statements of the affiants and when said statements had been reduced to writeing by me I then read the affidavit to the affiant and he again made oath to the statements therein to be true   I further certify that I have no interest in the case. Given under my hand and seal This May 13th 1908
E. H. Alexander
N.P.M.C.
Knob Lick
Ky
Time out Jan 23 1912                                                                                                                                                                         
SOURCES
Pension Records for Thornton Davis, RG15, National Archives and Records Administration, Washington, D.C.