Wilson M. Evans Pension Testimony, Part 2
December 8, 1883
In this second part of his testimony, Wilson M. Evans testifies about the doctors who treated his chronic disabilities resulting from the Civil War.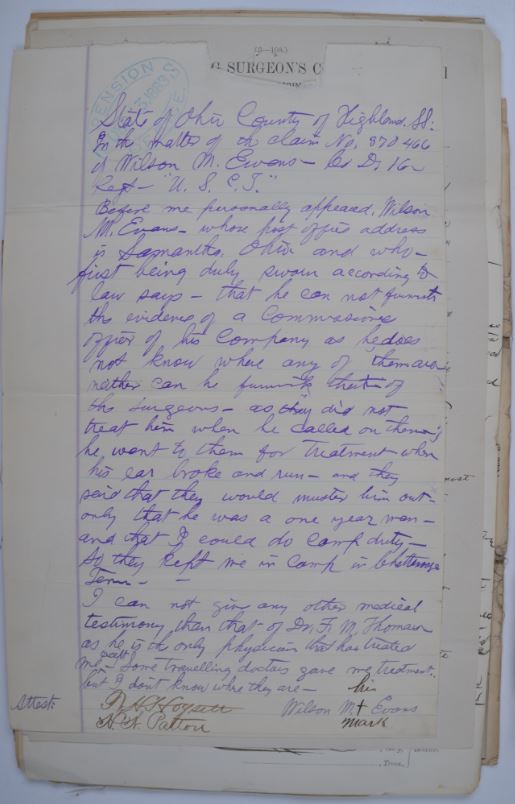 State of Ohio County of Highland, S.S. In the matter of the claim No. 370466 of Wilson M. Evans— Co. D. 16 Regt. "U.S.C.T."
Before me personally appeared Wilson M. Evans- whose post office address is Samantha, Ohio, and who first being duly sworn according to law says that he can not present the evidence of a commissioned officer of his company as he does not know where any of them are, neither can he present that of the surgeons, as they did not treat him when he called on them; he went to them for treatment when his ear broke and rum—and they said that they would muster him out—only that he was a one year man—and that I could do camp duty, so they kept me in camp in Chattanooga, Tenn.
I can not give any other medical testimony than that of Dr. F. M. Thomas as he is the only physician that has treated me except Some travelling doctors gave me treatment, but I don't know where they are.  
                                                                                         [his X mark] Wilson M. Evans
N. H, Hoysett
H. N. Patton
SOURCES
Pension Records for Wilson M.  Evans, RG15, National Archives and Records Administration, Washington, D. C.