Alexander Caine: From Philadelphia Barber to Union Sailor to World Traveler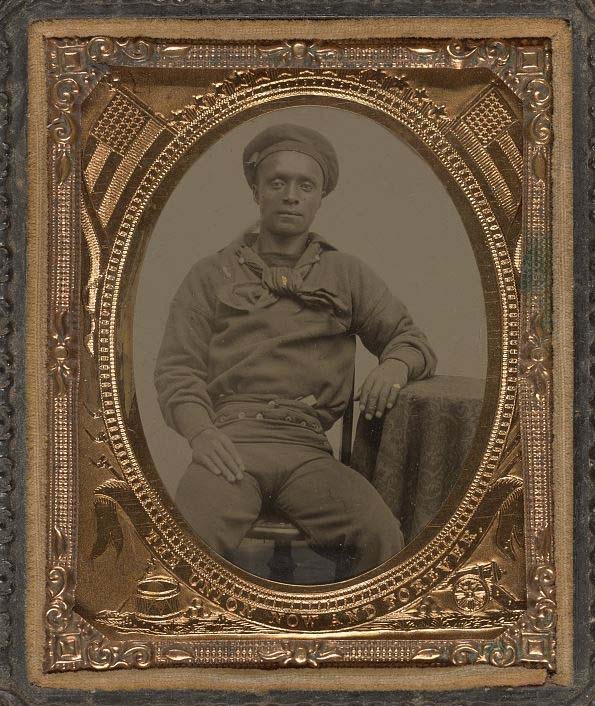 Of the six Albemarle-born Black men who joined the Union navy during the Civil War, no one left behind a larger paper trail than Alexander Caine. Caine, a barber living as a freeman in Philadelphia at the war's outbreak, joined the Union navy in January 1862 as a landsman and served on an ocean-going sloop called the USS St. Louis off the coast of West Africa. Even after leaving the navy in February 1865, Caine quickly signed up for another tour of duty, traveling to every major port in Europe and the Mediterranean. His two tours of duty show how the war expanded the horizons of many Virginian-born Black sailors, with Caine being one of the most well-traveled African Americans from Albemarle in the 19th century. Returning to New York with his ship in 1868, Caine settled down permanently in the city of brotherly love. Thanks to his pension file, we are able to recreate much of his life after the war. This is his story.
Life before the war
Alexander Caine was born on April 1, 1841, in Charlottesville, Virginia. His father was Louis Caine, but his mother's name is unknown. It is unclear whether he was born a slave or free, and he left no explanation for when and how he came to reside in Philadelphia. According to historian Andrew Diemer, the city was a hub of free Black life in Pennsylvania, with a percentage of African Americans that "dwarfed those of other northern cities." The city was also an important center for abolitionist and underground railroad activity as well as a battleground for those in favor or opposed to the Fugitive Slave Law. Records indicate that no later than the beginning of 1862, Caine was working as a barber and living on Locust Street, just above 5th Street, not very far from the Antislavery Society's headquarters in Philadelphia. He was able to read and write, signing his own name after the war in his pension file.
When he enlisted for three years in Philadelphia on January 28, he was almost 21 years old, 5 feet 4 inches tall, and was described as a mulatto by his enlisting officer. He enlisted onboard an older ship, the USS Princeton, which had been converted into a receiving ship by the navy in Philadelphia Harbor. He entered the navy with the rating of landsman, earning a monthly salary of $12, at a time when most Black sailors, especially those who had recently escaped slavery, were given the lower ranking of boys. His higher ranking may have reflected his status as a free man without previous naval experience.
Enlistment and Civil War career
During the war, Caine served on the USS St. Louis, a sloop-of-war commissioned on December 20, 1828. Caine served on this ship while she completed trips across the Atlantic Ocean. From late February 1862 until November 1864, the St. Louis was on patrol off the African coast, the Canary Islands, and the Azores in search of Confederate commerce raiders. From November 26 until the end of the war, the ship engaged in blockade duty as part of the South Atlantic Blockading Squadron. From November 29 to December 29, sailors and marines from the ship assisted in a joint army-navy campaign up the Broad River near Savannah, Georgia. They did so in support of General William T. Sherman's famous March to the Sea that captured the city on December 21, 1864. On November 30, the "sailor's brigade" joined with 5,000 army soldiers, including six USCT regiments and as many as eleven Black soldiers from Albemarle, to fight the Battle of Honey Hill. Although it ended in defeat, the sailors from the St. Louis and men of the Black regiments fought bravely against a well-entrenched Confederate position. According to the St. Louis's ship logs, Caine was not among the ships' sailors who served at the battle.
Apart from the excitement of searching for commerce raiders, crisscrossing the Atlantic, and finally serving in the blockade, Caine's service was not all routine or without personal consequences. In his pension, he was able to demonstrate that he suffered from piles (hemorrhoids) during and after the war, a disease which he contracted in the service sometime in 1862. Medical records on board the St. Louis also indicate he saw a doctor three times in 1863. In late January, while the ship was taking on supplies in Portugal, he remained in the ship's hospital for two days while he recovered from diarrhea. In March, while sailing off the West African coast, he received treatment for gonorrhea, a disease not contracted in the "line of duty" according to the navy. Finally, on August 19th while the ship was sailing past Tenerife Island, the largest of the Canary Islands, one of his fellow crewmembers, John F. Lynch, probably a White man serving with the rank of boy on the ship, got into a fight with James H. Draper, a mulatto landsman. During the fight Lynch hit Caine on the head with an unknown weapon, cutting him above his left eye down to the bone. Because Caine was the only one not arrested after the fight, it seems he was innocently caught in the middle Lynch's and Draper's quarrel. The ship's doctor quickly patched up the cut, and Caine returned to duty the following day.
Although ship logs searched at the National Archives cannot confirm his claim­­, Caine later told his pension agent that while on blockade duty he also briefly served on the USSTiconderoga, a screw-sloop first launched in 1862. A much more modern vessel than the St. Louis, the Ticonderoga did not serve in the South Atlantic Blockading Squadron until January 1865. It is possible Caine briefly transferred to the ship or assisted it in the course of his naval duties. With the war practically over, both ships returned to Philadelphia by May where they were decommissioned from the service. Caine himself left the St. Louis in late January was discharged from the service on February 14, 1865, having completed his three-year enlistment before the end of the war.
Post-war service
Caine returned to Philadelphia after his discharge, but his service in the U.S. Navy was not over yet. On October 31, 1865, he joined the crew of the USS Franklin, a screw frigate then stationed in Philadelphia. Although launched in 1864, the Franklin was not actually officially commissioned until June 1867 in Boston. The ship's records from before that time no longer exist, so nothing is known about Caine's second naval tour prior his ship's voyage on a goodwill tour of European ports that left from New York on June 28. Before its departure for its first stop Cherbourg, France, President Andrew Johnson and Secretary of State William H. Seward came aboard the Franklin to wish the ship's officers and crew well.
Although the ship's commander was Captain Alexander M. Pennock, a Civil War veteran from Virginia, the Franklin also served as the fleet's flagship. Admiral David M. Farragut, the famous hero of the Battle of Mobile Bay, resided on the ship during its entire tour. Arriving in France on July 14, Caine and his fellow crewmates visited all of the major ports of Europe and the Mediterranean, including such places as St. Petersburg, Stockholm, Gravesend (England), Lisbon, Naples, Istanbul, Trieste, and Gibraltar. Between this voyage and his service off of Africa during the Civil War, Caine would have been one of the most well-traveled African Americans from Albemarle of the entire nineteenth century. Finally, on October 18, 1868, the ship left Gibraltar for the last time, arriving in New York on November 10. Caine was discharged from the navy for the last time four days later on November 14.
Post-war life and pension
Having completed his second tour of duty with the navy, Caine settled back down into his life as a barber in Philadelphia's growing African American community. According to census records from 1870 through 1900, Caine along with a few others boarded with a widowed Black woman from Tennessee named Sarah Davis.  He never married or had any children. As early as 1902, he applied for a pension, giving the pension office the basic facts of his pre-war life, his service on the St. Louis and Franklin, and describing his post-war health. In addition to piles, which he said he contracted in the service in 1862, he had also been suffering for years from rheumatism. In 1903, the pension office awarded him $6 per month for those two ailments as well as "senile debility." Caine diligently applied for increases to this small sum. Eventually, a combination of more liberal laws passed in 1907 and 1912 that accounted for sailors' old age, his demonstrated "partial inability to earn a support by manual labor," and the efforts of his lawyer, Charles H. Brooks, all helped him to earn four increases. By 1912, the pension office awarded him $25 per month. This larger pension provided some comfort in his last years of life, serving also as a testament to his nation's gratitude for his service during the war.
Death and funeral
Caine spent at least the last three decades of his life as boarder at 1039 Lombard Street, across from present-day Seger Park. He died of myocarditis and senile debility just after midnight on December 8, 1915, at a Philadelphia hospital. A notice in the Philadelphia Inquirer invited not only "relatives and friends" but also "members of the Citizens' Republican Club" to attend the funeral on Saturday, December 10 at William P. Almond & Sons funeral parlor. Caine was buried later that day at Soldier's National Cemetery, now Philadelphia National Cemetery, in section G, site 836. Through his naval service, Caine had helped to preserve the Union, fought against slavery, and saw the wider world. Though without a family of his own, his pension and burial with other Civil War veterans demonstrated the larger nation's appreciation for him as a Black Virginian in blue serving his country's cause on the high seas.
Images: (1) Unknown Black Sailor (courtesy Library of Congress); (2) Sloop-of-war USS St. Louis, and (3) Screw frigate USS Franklin (Wikicommons); (4) Excerpt from pension application (courtesy National Archives).
SOURCES
"Alexander Caine," Naval Service Record, National Park Service Civil War Soldiers and Sailors Database, https://www.nps.gov/civilwar/soldiers-and-sailors-database.htm; "Alexander Caine," Pension Record, RG 15, National Archives and Records Administration (NARA), accessed through Fold3 (https://www.fold3.com/image/249/56830256); "U.S.S. St. Louis, December 1860 to April 1865" and "U.S.S. Franklin, June 3, 1867 to December 7, 1868," Medical Journals of Ships, 1813-1910, RG 52: Records of the Bureau of Medicine and Surgery, NARA; "U.S.S. St. Louis," "U.S.S. Ticonderoga," and "U.S.S. Franklin," Naval Deck Logs, RG 24: Records of the Bureau of Naval Personnel, NARA; "Alexander Caine," Certificate of Death, Pennsylvania, Death Certificates, 1906-1966, accessed on Ancestry.com; Philadelphia Inquirer, December 9, 1915; "Alexander Caine," U.S. Census for 1870, 1880, and 1900, accessed on Ancestry.com; Report of Brigadier General John P. Hatch on Engagement at Honey Hill, S.C., December 1864, Official Records of the Union and Confederate Armies, series I, vol. 44 (Washington: Government Printing Office, 1893), 421-425; Dictionary of American Naval Fighting Ships entries for "Princeton II (ScStr)," "St. Louis I (Sloop-of-War)," "Ticonderoga II (ScSlp)," and "Franklin IV (Screw Frigate)" were accessed online at the Naval History and Heritage Command website, https://www.history.navy.mil/research/histories/ship-histories/danfs.html; Joseph P. Reidy, "Black Men in Navy Blue During the Civil War," Prologue: of the National Archives and Record Administration 33, no. 3 (Fall 2001), http://www.navyandmarine.org/ondeck/1862blackinblue.htm; Steven J. Ramold, Slaves, Sailors, Citizens: African Americans in the Union Navy (DeKalb: Northern Illinois University Press, 2002); Barbara Brooks Tomblin, Blue Jackets and Contrabands: African Americans and the Union Navy (Lexington: The University Press of Kentucky, 2009); Andrew K. Deimer, The Politics of Black Citizenship: Free African Americans in the Mid-Atlantic Borderland, 1817-1863 (Athens: University of Georgia Press, 2013).