Testimony of William Jones
March 29, 1865
William and Marilda Jones gave testimony about running away from their master while still enslaved in hopes of obtaining some money stolen by the men who caught them.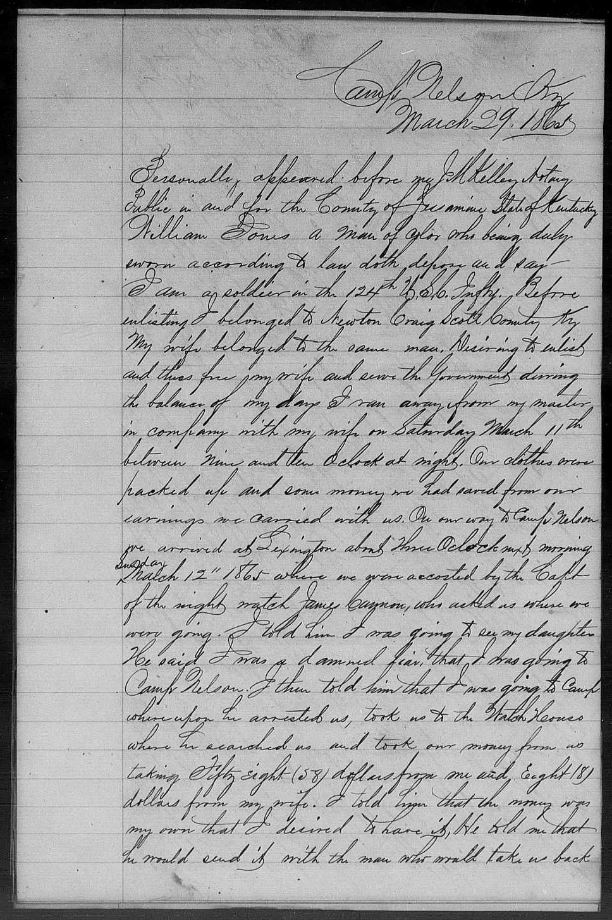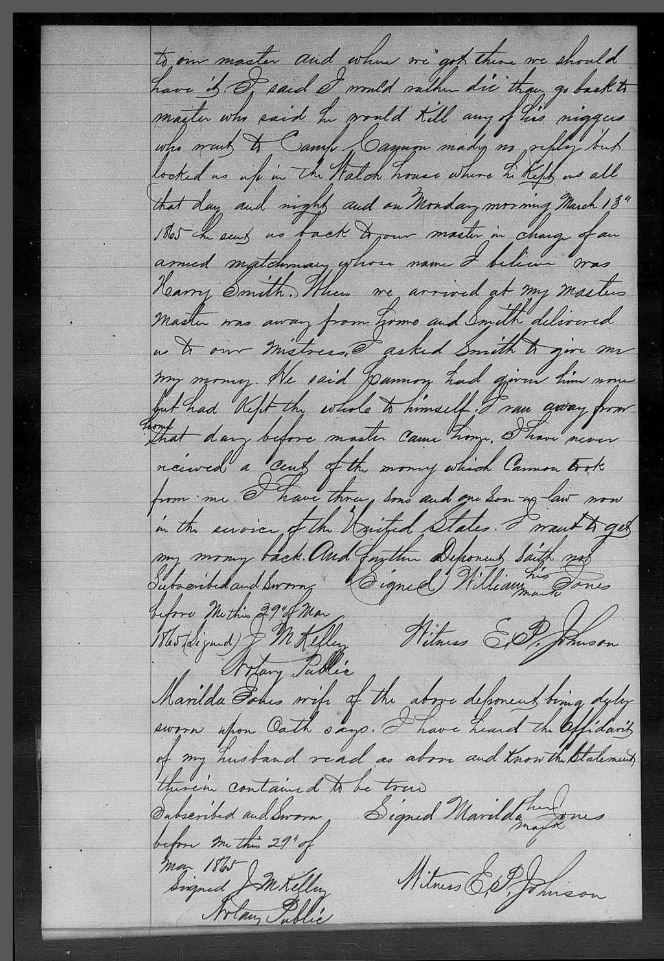 Camp Nelson Ky
March 29, 1865
            Personally appeared before me J M Kelley Notary Public in and for the County of Jessamine State of Kentucky William Jones a man of color who being duly sworn according to law doth depose and say—I am a soldier in the 124th U.S.C. Infty.  Before enlisting I belonged to Newton Craig Scott County Ky[.] My wife belonged to the same man.  Desiring to enlist and thus free my wife and serve the Government during the balance of my days I ran away from my master in company with my wife on Saturday March 11th between nine and ten Oclock at night.  Our clothes were packed up and some money we had saved from our earnings we carried with us.  On our way to Camp Nelson we arrived at Lexington about Three Oclock next morning Sunday March 12" 1865 where we were accosted by the Capt of the night watch James Cannon, who asked us where we were going. I told him I was going to see my daughter[.]  He said I was a damned liar, that I was going to Camp Nelson.  I then told him that I was going to Camp whereupon he arrested us, took us to the Watch House where he searched us and took our money from us taking Fifty eight (58) dollars from me and Eight (8) dollars from my wife. I told him that the money was my own that I desired to have it[.] He told me that he would send it with the man who would take us back to our master and when we got there we should have it.  I said I would rather die than go back to master who said he would kill any of his niggers who went to Camp. Cannon made no reply but locked us up in the Watch house where he kept us all that day and night and on Monday morning March 13" 1865 he sent us back to our master in charge of an armed watchman whose name I believe was Harry Smith.  When we arrived at my masters master was away from home and Smith delivered us to our mistress.  I asked Smith to give me my money.  He said Cannon had given him none but had kept the whole to himself.  I ran away from home that day before master came home.  I have never received a cent of the money which Cannon took from me.  I have three Sons and one Son-in-law now in the service of the United States.  I want to get my money back. And further Deponent saith not
(Signed) William his mark Jones
Subscribed and Sworn before Me this 29" of Mar 1865
(Signed) J M Kelley Notary Public
Witness E. P. Johnson
Marilda Jones wife of the above deponent being duly sworn upon Oath says, I have heard the affidavit of my husband read as above and Know the Statement therein contained to be true
Signed Marilda her mark Jones
Subscribed and Sworn before Me this 29" of Mar 1865
(Signed) J M Kelley Notary Public
Witness E. P. Johnson
SOURCES
Affidavits of William Jones and Marilda Jones, 29 Mar. 1865, filed with H-8 1865, Registered Letters Received, ser. 3379, TN Asst. Comr., RG 105, National Archives and Records Administration, Washington, D.C.; Berlin, Ira; Reidy, Joseph P.; Rowland, Leslie S.; Freedom: A Documentary History of Emancipation, 1861-1867; Series II: The Black Military Experience; Cambridge University Press (London, United Kingdom, 1982), 266-267.