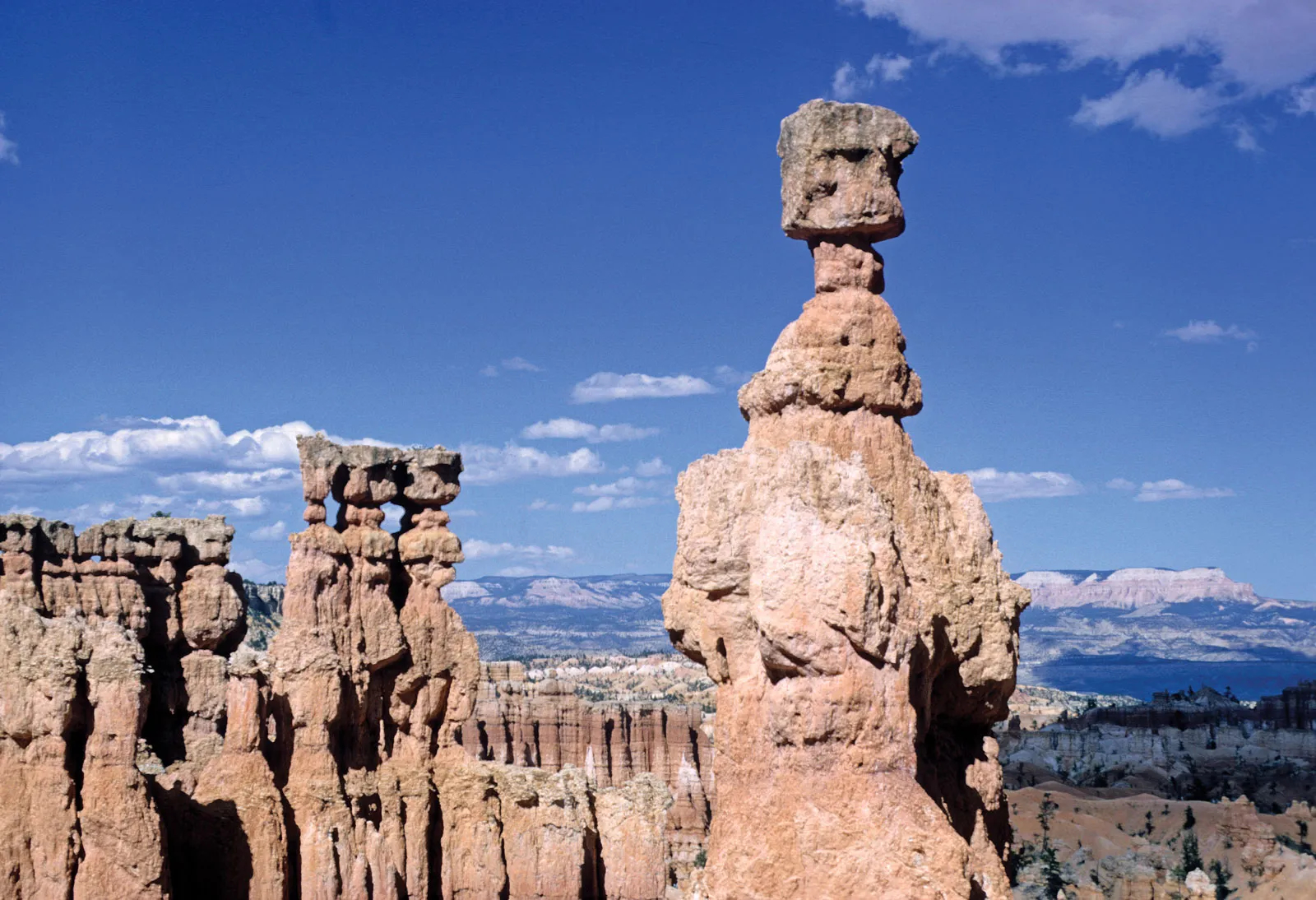 Pioneers from the Church of Jesus Christ of Latter-day Saints, commonly known as Mormons, left the United States of America in 1847. Theocratic tendencies and an unorthodox polygamous lifestyle had made Mormons anathema from one American town to the next. They hoped the Great Basin would be a respite. Though Ute peoples dominated the landscape, and the Mexican government claimed the area as a borderland, this contested region accommodated the American "others." Mormon pioneers settled down and began building their vision of Zion. Only one year later, Mexico signed the treaty of Guadalupe Hidalgo ceding much of its northern territory to the United States. Mormons and Americans met again. Utah became a U.S. territory in 1850, but further reconciliation was slow. The federal government delayed statehood until 1896, after the church, under threat of federal charges and forced dissolution, terminated the practice of plural marriage.
A people with such radical beginnings might have been free from social prejudices that had plagued the rest of the country. The Mormons were also geographically distant from racial tensions which roiled the east, where the Republican party formed in the North and a growing clamor for secession rose from the South. Yet perhaps surprisingly, these counter-cultural refugees embraced and institutionalized the idea of Caucasian racial supremacy that would soon tear the nation into war. Perhaps racializing their doctrine was an effort to reestablish Mormons as mainstream Americans at a time when citizenship was denied to all but free Whites. Maybe it was the need to associate the church with white Protestantism when polygamy had consigned Mormons to the status of religious outsiders. Whatever the reason, in 1852, President Brigham Young publicly announced that men of black African descent could no longer be ordained to the priesthood. The State Legislature formally legalized slavery in the Utah territory later that year.
From this time forward, the Church of Jesus Christ of Latter-day Saints would plead the case for spiritual racism. Like other segregationists, leaders argued that Africans descended from Cain, or from Noah's son Ham. As such, those with dark skin, particularly those of African heritage, were consigned to a life of servitude. Some theorized that dark skin was a punishment for misdeeds in a premortal existence. These ideas were heavily debated among the membership, but over time they gained acceptance through the insistence of prophets that the policy was God's will. Church authorities welcomed Blacks as members but barred them from leadership. African Americans couldn't speak in meetings or enter sacred Mormon temples. B. H. Roberts, a prominent Mormon thinker, and president of the Southern States Mission, wrote a leadership manual in 1907. In it he argued the Jim Crow South ought to preserve an "impassible social chasm between black and white…in behalf of her blood, her essence, of the stock of her Caucasian race." Church leaders buttressed this policy of differentiation until June 1978, well behind the curve of civil rights reform in the U.S.
Lowry Nelson was a prominent member of the church and an academic who opposed this policy during the Civil Rights Era. He editorialized that many Mormons accepted racist ideas sheerly from ignorance. "For most of those living in Utah and adjacent states the Negro question is academic; they hardly ever see Negroes, much less live in the same community with them." Utah diversified throughout the twentieth century, but Latter-day Saints remained the dominant demographic. Church leaders wielded significant power socially and politically. The Black population remained negligible, but railroad, mining, and military work brought racial and ethnic variety to the state. In response, local lawmakers moved to preserve social separation by excluding Black patrons from most restaurants, bars, hotels, and entertainment venues. In 1955, the Salt Lake Tribune ran a complaint from Marion Mills, a Black veteran, who wondered why people of color were "required to occupy balcony seats in many local theaters." He also noted that many employers refused to hire African American employees. Legal attempts to segregate city neighborhoods failed, but the Salt Lake Board of Realtors established a non-white housing control committee. To reinforce physical separation, Utah lawmakers enhanced an already existing anti-miscegenation statute to become one of the strictest in the nation in 1953. The law disallowed and nullified any marriage between Caucasian and minority citizens, specifying that even individuals with a single Black great-grandparent were forbidden to intermarry. This statute wasn't repealed until 1963.
Due to these and other prohibitions which physically and socially isolated Blacks, W. Miller Barbour, Western Regional Director for the National Urban League, published a damning report in 1954 about Black welfare in Mormon dominated areas of the West. "In large areas of Utah, Nevada, and northern Arizona, and in most of the smaller towns, the discrimination is almost as severe as in the south." Charles Nabors corroborated this assessment with his personal experience in Salt Lake City. The University of Utah hired Nabors as part of its graduate lab staff. Nabors was hesitant to move from the Midwest to Salt Lake City, which he believed was hostile to Black people. "The Mormons we thought of as outright racists." Nabors relocated in the sixties but found Utah behind the national trend toward integration. The Utah House had considered equal rights legislation multiple times, but Nabors's contacts in the NAACP said opposition from the LDS church kept it from passing. Nabors and other activists began picketing Church headquarters in 1964. He recalled that a crowd of White picketers joined their protest, including many devout members of the Mormon church. The bill passed. Nabors singled out some of the individuals who advocated for equality despite prevailing hostility or indifference. Bob Freed was a local Mormon businessman who bought Lagoon Amusement Park and opened it to people of all races in the 1950s. Stan Katz was a Jewish realtor who risked his career by refusing to discriminate against buyers. In this tradition, The Green Book Project is a way to recognize and honor Utah business owners who opened their doors to the Black community despite sometimes fierce opposition from the local community.
By Jessica Guynn. Many thanks to Jessica Guynn and Cory Jensen for documenting all Utah sites.
Sources consulted:
Annie Clark Tanner, A Mormon Mother: An Autobiography. 4th ed. (Salt Lake City, University of Utah Tanner Trust, 2006), 128.
Church of Jesus Christ of Latter Day Saints, "Race and the Priesthood," https://www.churchofjesuschrist.org/study/manual/gospel-topics-essays/race-and-the-priesthood?lang=eng
Jeffrey D. Nichols, "Slavery in Utah," History Blazer, April 1995. Accessed historytogo.utah.gov.
B. H. Roberts, Seventy's Course in Theology (Salt Lake City: Deseret News, 1907-1912), 1:165-66. See also F. Ross Peterson, "'Blindside': Utah on the Eve of Brown v. Board of Education," Utah Historical Quarterly 73, no. 1 (2005): 6. https://issuu.com/utah10/docs/uhq_volume73_2005_number1/s/10143025
Church of Jesus Christ, "Race and the Priesthood." https://www.churchofjesuschrist.org/study/manual/gospel-topics-essays/race-and-the-priesthood?lang=eng.
Lowry Nelson, "Mormonism and the Negro," Nation Magazine, May 24, 1952.
Rebecca Andersen, "The Great White Palace: African American Segregation in Utah," Utah Humanities, utahhumanities.org/stories/items/show/228.
Tonya S. Reiter, "Not in My Neighborhood: The 1939 Controversy over Segregated Housing in Salt Lake City." Utah Historical Quarterly 90, no. 1 (2022), 15.
Patrick Q. Mason, "The Prohibition of Interracial Marriage in Utah, 1888–1963." Utah Historical Quarterly 76 (Spring 2008): 126-129. https://issuu.com/utah10/docs/uhq_volume76_2008_number2/s/10216033
F. Ross Peterson, "'Blindside': Utah on the Eve of Brown v. Board of Education," Utah Historical Quarterly 73, no. 1 (2005): 6. https://issuu.com/utah10/docs/uhq_volume73_2005_number1/s/10143025, 15.
Leslie Kelen, "Interview with Charles Nabors", December 15,1983, Everett L. Cooley oral history program, https://collections.lib.utah.edu/ark:/87278/s64t85tw,
Kelen, interview with Charles Nabors, 99.